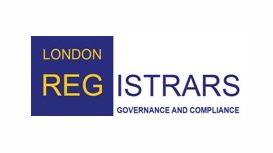 London Registrars Ltd is a firm specialising in corporate governance, risk and compliance services and offering legal and business advice to all types of organisations. We aim to tailor our services to the specific requirements of our clients and ensure that they are delivered to the high standards you would expect from an organisation with ISO 9001 accreditation.
Our wide range of services are designed to provide back-office compliance and governance support at every organisational level which allows directors and managers to concentrate on the core aspects of their business.
---
Services
The role of company secretary is a vital one within all companies. One of the major advantages of using a reputable and experienced outsourced company secretary is that directors are free to concentrate on the smooth running of their company, safe in the knowledge that this vital role is being carried out effectively and professionally.
London Registrars can act as company secretary for your company either on a long-term basis; provide cover if your company secretary is absent for an extended period or carry out a single project when required. Our current clients include listed companies, non-listed PLCs, charity companies, academy schools, and private limited companies.
Thanks to the combined knowledge of our team of qualified company secretaries and their extensive experience in the private, public and charity sectors and thanks to our certification under ISO 9001, we can deliver to you the highest standard of work and still at very competitive prices.
The role of a process agent is a vitally important service for many overseas businesses dealing with suppliers or tenders in the UK, or raising a loan from a City institution. In respect of the latter, the lending bank will require the appointment of a UK based process agent to receive formal notices should the borrower default on the loan.
UK process agents (also known as agent for service of process, registered agent, registered agent for service of process or resident agent) accept service of notices, proceedings or documents on behalf of their overseas clients in situations where, usually because of contractual obligations, it is not possible for them to be served abroad.
Under English court procedure rules, it is necessary to serve papers to start proceedings correctly. If a party does not have an address within England, the process for serving these papers abroad is lengthy and complicated. It is therefore customary – and indeed often required by the UK entity supplying the service or loan – for the overseas entity to appoint a UK process agent and agree that service at the address of the process agent will constitute proper service for the purposes of the court procedural requirements.
A process agent can also act in a broader capacity for the appointing company, including acting as a process agent for court actions, receiving documents in connection with arbitration proceedings, and receiving notices under contracts where an independent party is needed.
Reviews and Ratings
We do not have any reviews about London Registrars available right now.